Spring 2021 Class Schedule
2021 SPRING CLASSES

PLEAS NOTE:  Due to the continuing COVID-19 outbreak,
all classes/labs will enforce social distancing measures and all
students MUST wear a face mask/face covering in order to
enter the Union Hall/Technology Center and also to
participate in classes and/or labs.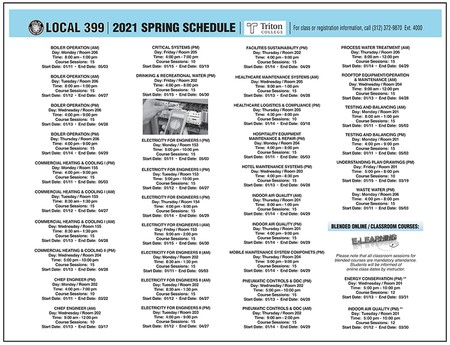 Click image to view/download 2021 Spring Schedule
You

MUST

use the

REGISTRATION FORM BUTTONS BELOW


in order to register for ALL classes.

PAPER REGISTRATION FORMS
WILL NO LONGER BE ACCEPTED FOR REGISTRATION!
ATTENTION LOCAL 399 STUDENTS:
Your MUST submit a signed copy of our
Safe Work Practices Form to your instructor
on the first day of class.  Click the button below
to view/print your form.