2018 Election Information
ON TUESDAY, NOVEMBER 6, 2018




Vote to save your Union jobs, wages and benefits.



Local 399 members are encouraged to get out and
VOTE in the upcoming November 6th General Election.

For Union Members and labor-friendly households,
this is the most important election in a generation.


For your convenience, we've provided a list of
Local 399 Endorsed Candidates



Please download and take this list with you to the polls.



 
ILLINOIS

ELECTION ENDORSEMENT SHEET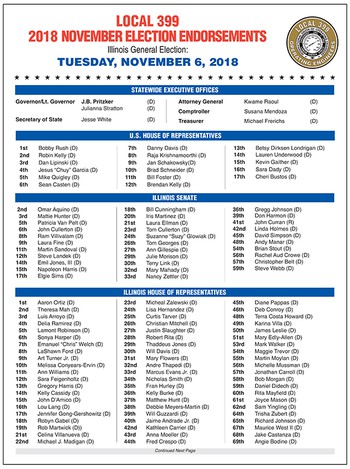 Click image to view/download

Illinois

Election Endorsements
Early voting in Illinois has begun
In Chicago, residents can early vote at the "super site" at 175 W. Washington Street
from 9 am to 5 pm M-S, and 10 am to 4 pm on Sundays. Click here for info.

For voters in Cook County outside of Chicago, Click here for info.

For voter outside of Cook, click here for info.

For our national readers, please check with your local election authorities.
Early Voting:
Sep 27, 2018 - November 5, 2018

Voter Registration Deadline:
Tuesday, October 9, 2018

Online by Sun Oct 21, 2018

Voter Registration "Grace Period" Wed Oct 10, 2018 thru Election Day

Election Day Registration & Voting
(Call Local Election Office) Tue Nov 6, 2018

• • • • • • • • • • • • • • • • • • • • • • • • • • • •
 
INDIANA

ELECTION ENDORSEMENT SHEET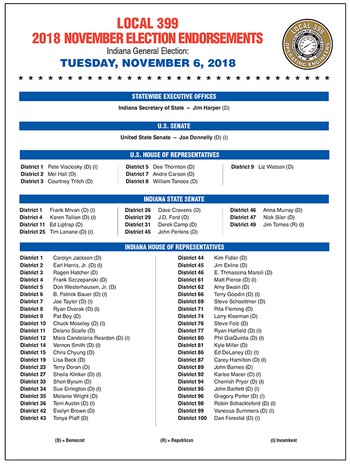 Click image to view/download

Indiana

Election Endorsements