COVID At Home Testing Compliance


 
IMPORTANT NOTICE TO PARTICIPATING MEMBERS:
Effective May 12, 2023, the Fund will no longer provide
coverage for OTC COVID-19 tests.
Starting January 15, 2022, your medical plan will reimburse each eligible
participant of the H&W Plan up to 8 over-the-counter COVID-19 tests per month.
Coverage includes at-home COVID-19 test kits authorized by
The Food and Drug Administration (FDA).
The most common tests are:
BinaxNOW
™
, Flowflex
™
, InteliSwab
™
, On/Go
™
and QuickVue
™
.
How do I submit a claim?
You can submit your claim for covered tests purchased on or
after January 15, 2022.  Reimbursement for coverage will be available through
the end of the emergency health period. You must include your original receipt
with the completed attestation form and mail to:
Elite Administration
1300 W. Higgins Road • Suite 208
Park Ridge, IL 60068
Please note:
Tests are for diagnostic use only and are NOT reimbursable
for purposes of employment.
Stores are currently experiencing supply shortages for these tests.
Additional options:
Order 4 free at-home tests from covidtests.gov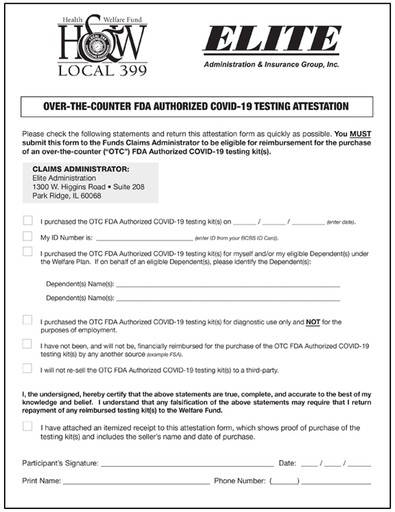 Click form image to view/download reimbursement form