2018 Summary of Benefits Coverage (SBC)
H&W Participating Members – The 2018 SBC document is now available!
Adding a Spouse or Child to your Insurance


 
How do I add my new wife / baby to the insurance?
Complete a Dependent Change Form (shown below) and
submit it to the Health & Welfare Fund Office with a 
copy of the state/county issue marriage license or
birth certificate via: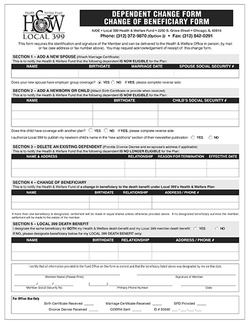 Click form to view/download
•  Fax (312) 842-0291
•  Email: click here to submit
•  Mail (or drop off at):
   Local 399 Health & Welfare Department
   2260 S. Grove Street, Chicago, IL 60616
Please don't forget to sign the bottom of the form!